Officially today was the first day of Spring, I know, but Spring sprung on us already awhile ago here in the 'Lou, and I took full advantage of it Monday on my day off. I'd been invited to dinner at friends Alaina and Steve's house in O'Fallon, IL for Monday evening, and I hadn't planned much of anything else for the day beyond getting some more new
items in my booth
, so I took advantage of the rest of the day to explore a few of the many, many great thrift stores in and around Belleville, IL. I had heard there were quite a few, but when I started googling, I was surprised at the sheer numbers in what I'd always considered to be (compared to St Louis) a small town. Have you guys ever used
The Thrift Shopper
? I just came across it while doing the aforementioned googling, and what a handy resource! I'm excited to put it to use again soon.
I didn't get to every shop listed on my nifty new resource, but I'll give you what impressions I can of the ones I did visit:
Goodwill, Fairview Heights:
I stopped by this one mostly because it's right off the highway and easy enough to stop at sort-of-on-the-way to the others. It's a huge Goodwill in a nifty building, but I wasn't expecting all that much, since it's right by the highway and surrounded by suburban sprawl-mall complexes. I assumed it would be high on prices and low on vintage, but I was pleasantly surprised!
Nice vintage desk and old utility chair.
I believe the desk was marked $30.
Old covered wagon lamp
with Carebear wagon-cover!
Cool laminate-topped end table with inverted arch designs.
I walked around for about 15 seconds before heading back outside to grab a cart to contain a great vintage Samsonite suitcase much like this one that sold on Etsy last fall: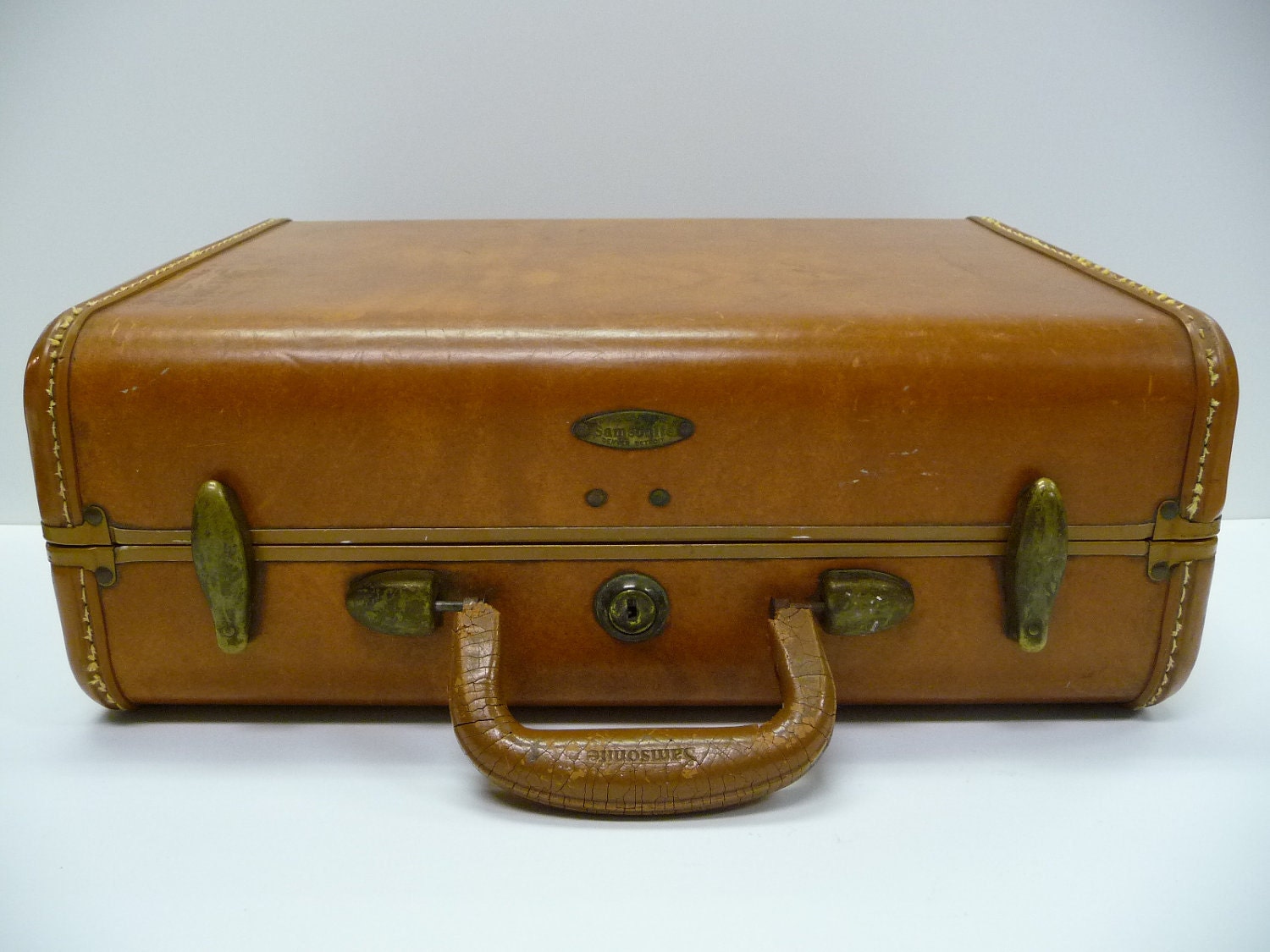 Obviously I haven't yet gotten a pic of the one I bought!
Picked up a couple of other, smaller items as well, then headed South to Belleville proper.
Next stop was the Shelter Shop on North Belt in Belleville, whose proceeds go to violence prevention, I'm told. Prices here were very reasonable, but I didn't spot much that I couldn't live without this trip. I will definitely give it another try next time I'm in that neck of the woods though - the people were nice, even if they wouldn't sell me the super cool vintage chrome and vinyl chair I coveted. Apparently their customers sometimes need to sit down, and they didn't mean at my house. Oh well! I did pick up a couple of old embroidery hoops and a 70s kitchen gadget, for a grand total of $0.89. Not bad.
Then it was the Salvation Army, where I wouldn't have been surprised to hear an actual angel chorus sing when you open the door. Seriously, I found some fantastic things! First, what I left for the rest of you:
This half-buried loveseat had great lines, the upholstery
that wasn't piled with stuff looked great, and I believe it
was a sleeper. Beef up those seat cushions a touch
and it would be good as new!
Can you see that? Yes, this awesome "Dad chair"
is marked down to $8.99! Go get it before somebody
who won't appreciate it's classic lines and Ward
Cleaver appeal takes it home and spills Red Bull on it!
Heavy brass and wood bookends - pretty in person.
And a creepy one for you. Please tell me you can see that
this is definitely Carol Anne from Poltergeist sitting
there with her over-realistic Raggedy Ann doll. Yikes!
I picked up a handful of gems here, but the coolest, by far, was this:
Wide lapels and wild pleating
The jacket itself brings the funk with all the wild details, but the real reason this is an out-and-out treasure in my book is what you find inside:
Yes, that definitely says "Original Fashions by Sammy Davis Jr.,
and his signature is part of the lining fabric print!
I tried to walk away from this jacket. I mean, it's not exactly a practical purchase, but... Sammy Davis Jr.! I mean... come on. Sammy. Davis. Jr.! I was powerless to resist. And interestingly, Google seems to have very little to say about the great Mr Bojangles' fashion line. I found a garment bag with the logo someone's trying to sell, and one three piece pinstriped suit.
The prettier finds I made were vintage Springtime perfection. I picked up four gorgeous crewelwork pictures (there were at least 2 more that I left behind, if you love this stuff like I do!):
As they're leaning against the tire of my car, you can kind of get the idea of the scale of these two. Bright, beautiful, detailed and well-done. I adore the blue genie-bottle type vase in the one on the right.
As you can see, these two are much bigger still than the first pair. I love the bold colors in the vertical one, but the horizontal looks awesomely just like a field of wildflowers, complete with a bumblebee in the upper-right there. So Pretty!
I already have a few other cool crewelwork pieces (including the
Van Gogh Sunflowers
I've shown before), so I really need to free up some wall space in my booth and show these off like they deserve. If anyone's looking for some fun, funky, beautifully crafted artwork, let me know, or I'll let you know when I get them up in the booth!
I visited a couple more thrift stores yesterday, but it just hit midnight here in the 'Lou, and I'm about to turn into a late-for-work in the morning pumpkin, so I'll wrap it up for the night. Hope you're enjoying the Spring as much as I have been!